George Alistair Sanger, also known as "The Fat Man", is an American musician who has composed music for video games, beginning in 1983. Some of his best-known works include The 7th Guest, Wing Commander, Hard Nova, Loom, Tux Racer, and Zombies Ate My Neighbors.
Permission
Edit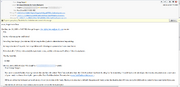 Blanket artist permission was obtained by Coolgamer on January 2015.[1] Before stepping any song, PM the artist to make sure if there's any issues.
The reply is as follows :
[…] I see no problem with allowing you permission to use some tunes.
Pick a few off of 7/11 (or whatever) that you want to use, and let us know--we'll tell you if there's any issues.
External links
Edit
References
Edit
Community content is available under
CC-BY-SA
unless otherwise noted.