Permission
Edit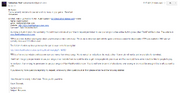 Artist permission was obtained by XelNya in February 2016.[1]
The replies are as follow :
You're certainly welcome to use some of my music in your game. Have fun! -Sebastien Don't mind my poor choice of words, you're free to use any of my music in FFR c: I play quite a bit of Stepmania myself actually and used to play FFR at school a lot when I was a teenager. Cool to see you guys are still around!
References
Edit
Community content is available under
CC-BY-SA
unless otherwise noted.