In-game songs
Edit
Permission
Edit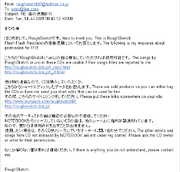 Artist permission was obtained by Ghakimx in July 2009.[1] RoughSketch should be asked first to know which songs to use and be contacted everytime a file gets in game. Ghakimx can be contacted for a shortened version of the songs you want. For full versions, you can contact Ghakimx or _.Spitfire._.
The reply (translated) is as follows :
RoughSketch or uno in these CDs are usable if their songs titles are reported to me. These are sold products so you can either buy the CDs or have me send you short edits that can be used for free. Please put these links somewhere on your site. The other artists and songs from CD not released by NOTEBOOK are not under my control. Please ask the CD owner or artist for their permissions. If there is anything you do not understand, please contact me.
References
Edit
Community content is available under
CC-BY-SA
unless otherwise noted.