In-game songs
Edit
Permission
Edit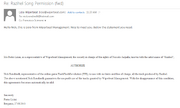 Artist permission was obtained by Poison- in August 2013.[1]
The reply is as follows :
Me Pietro Licini, as a representative of Wiperbeat Management, the society in charge of the rights of Nicolò Arquilla, known with the artist name of "Razihel", authorize Nick Rondinelli, representative of the online game FlashFlashRevolution (FFR), to use with no limits and free of charge, all the track produced bt Razihel. The above mentioned Nick Rondinelli guarantees the no-profit use of the tracks granted by Wiperbeat Management. With the disappearance of this condition, this agreements becomes automatically invalid.
Additionally, anything released under Monstercat can be used.
References
Edit
Community content is available under
CC-BY-SA
unless otherwise noted.