In-game songs
[
]
Discography
[
]
Hands (1998)
Uncool (2000)
9.11 (2001)
Forgotten Anthology (2003)
Normal (2005)
Abnormal (2008)
Barefoot: The Acoustic EP (2008)
Permission
[
]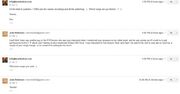 Limited artist permission was obtained by Xtreme2252 on June 2014.[1]
The reply is as follows : Thank you for reaching out :) Were there certain songs you wanted to use? (Just so I know it's songs that I have permission to give permission for, lol...) [first screenshot, not pictured]
I'm the label & publisher, I 100% own the master recordings and all the publishing. :) Which songs are you thinkin'...?
Whichever songs you want :)
References
[
]