Permission
Edit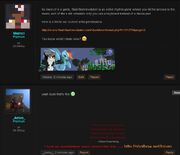 Blanket artist permission was obtained by Lambdadelta on May 2014.[1]
The reply is as follows :
Sure thing as in youtube vids? if you're recording stuff with it and putting it on youtube just put the link to my soundcloud in the desc [first screenshot, not pictured]
yeah dude that's fine [second screenshot, pictured]
References
Edit
Community content is available under
CC-BY-SA
unless otherwise noted.