In-game songs
Edit
Discography
Edit
39+1m (2009)
Life Size Note (2010)
Kotaeawase (2011)
Chiisana Jibun to Oukina Sekai (2011)
Koufuku Shisuu (2012)
Shintai Sokutei (2013)
Shounen to Mahou no Robot Vocaloid Best, New Recordings (2013)
41m (2014)
Permission
Edit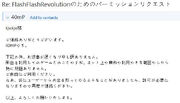 Blanket artist permission was obtained by kjwkjw in January 2012.[1]
The reply is as follows :
楽曲を利用してのゲームとのことですが、ネット上で無料で利用できる範囲でしたら 特に問題ありません。 ご自由にご利用ください。 なお、仮にユーザーからお金を取ってやるようなことがありましたら、許可が必要に なりますので再度ご連絡ください。
Which translates to :
Since this is regarding song usage for a music-based game... if it is free-to-play on the web, there aren't any problems in particular. Please feel free to use them! On the other hand, if users need to pay or in other similar cases, permission is needed. So please reply back again.
References
Edit
Community content is available under
CC-BY-SA
unless otherwise noted.